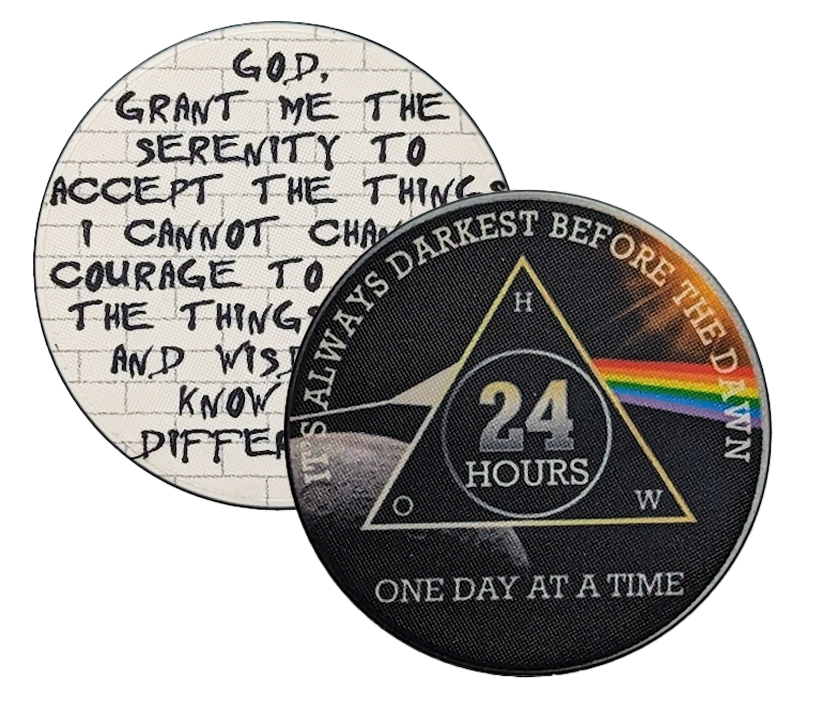 Dark Side of the Moon 24hrs to 18 Months
Save

Liquid error (snippets/product-badge line 32): Computation results in '-Infinity'

%
Introducing the Sun and Moon Recovery Poker Chip, a symbol of resilience and determination in the journey of recovery. This durable and aesthetically designed poker chip serves as a tangible reminder of the milestones achieved and the ongoing commitment to personal growth and transformation.
Available for key recovery milestones including 24 hours, 1, 2, 3, 6, 9, and 18 months, each poker chip signifies a significant step in the journey of recovery. It stands as a proud marker of the strides made and the transformative path each individual is on.
The front of the chip encourages participants to Breathe, signifying the beginning of the recovery journey. It features a radiant sun, representing the emergence from darkness and the dawn of a new chapter in life. The design embodies the preciousness of time and the importance of cherishing every moment.
Embedded in the chip are the circle and triangle symbols, representing the principles of Honesty, Open Mindedness, and Willingness (H O W). These principles guide individuals on the path to lasting recovery, creating a balanced and stable foundation for personal development.
On the reverse, the chip presents the Serenity Prayer, elegantly displayed against a symbolic white brick wall. This prayer is a source of comfort and strength, offering hope and reassurance that there is always a brighter future, even in challenging times.
Celebrate your progress, honor your achievements, and embrace your future with confidence, one day at a time, with this powerful token of recovery.
Key Features:
Designed for recovery milestones of 24 hours, 1, 2, 3, 6, 9, and 18 months, each chip marks a meaningful point in one's recovery journey.

Embodies the essence of a recovery token, blending aesthetics with symbolic significance.

Features the foundational principles of Recovery in 12 Step Programs, represented by the circle and triangle motifs with H O W (Honesty/Open Mindedness/Willingness).

Also known as the Pink Floyd chip for its sun and moon and the brick wall on the back.

The backside showcases the Serenity Prayer against a white brick wall, adding depth and meaning to its design.