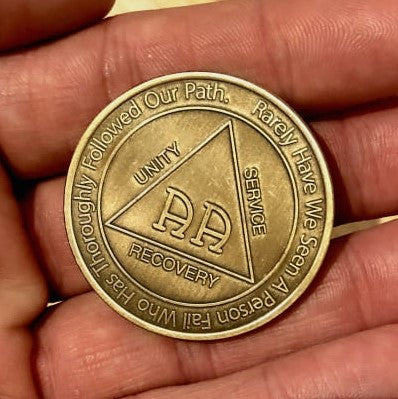 Privately Minted AA Yearly Medallion
At My Recovery Store, we pride ourselves in offering more than the standard AA yearly medallion. Our commitment is to bring you fresh alternatives, using quality materials. Every recovery story is different, and you deserve an AA coin that reflects your journey. Let us introduce you to our privately minted medallion.
A Throwback Classic
The first thing you will notice about our new yearly AA coin is that we opted for a "throwback" alcoholics anonymous logo on the front. This gives the coin a classic feeling and showcases the three legacies: unity, service, and recovery. Combined with the brushed brass finish, this AA medallion is refined and one-of-a-kind, sure to catch the eye and be treasured.
Bigger Can Be Better
Personal Touches
The front of our yearly sobriety coin includes the first line from "How it Works" from the AA Big Book: "Rarely have we seen a person fail who has thoroughly followed our path." Every yearly milestone is a triumph, and a testament to the person who follows the path. On the back of the coin includes the program in a nutshell: "Trust God, Clean House, Help Others."
A Perfect Gift
This yearly AA coin makes a perfect gift for a loved one celebrating another year of sobriety. If you are looking for an engraved AA medallion, custom engraving is available with this coin. Each coin also comes in a clear capsule for safe transport and display purposes. We are proud of our minted year AA medallion and its unique features, which include:
40mm size
2mm thick
Clear Coin capsule
Arabic-style numbers
Throwback AA logo
First line of "How it Works"
Years 1-60 available
Custom engraving available
Shop Today
My Recovery Store is proud to provide you with unique and finely-crafted recovery and sobriety tokens, books, clothing, and gifts. Shop online for items like our unique AA yearly medallion and more. Or drop us a line. We can help you find just what you are looking for and we love to provide first-rate customer service!