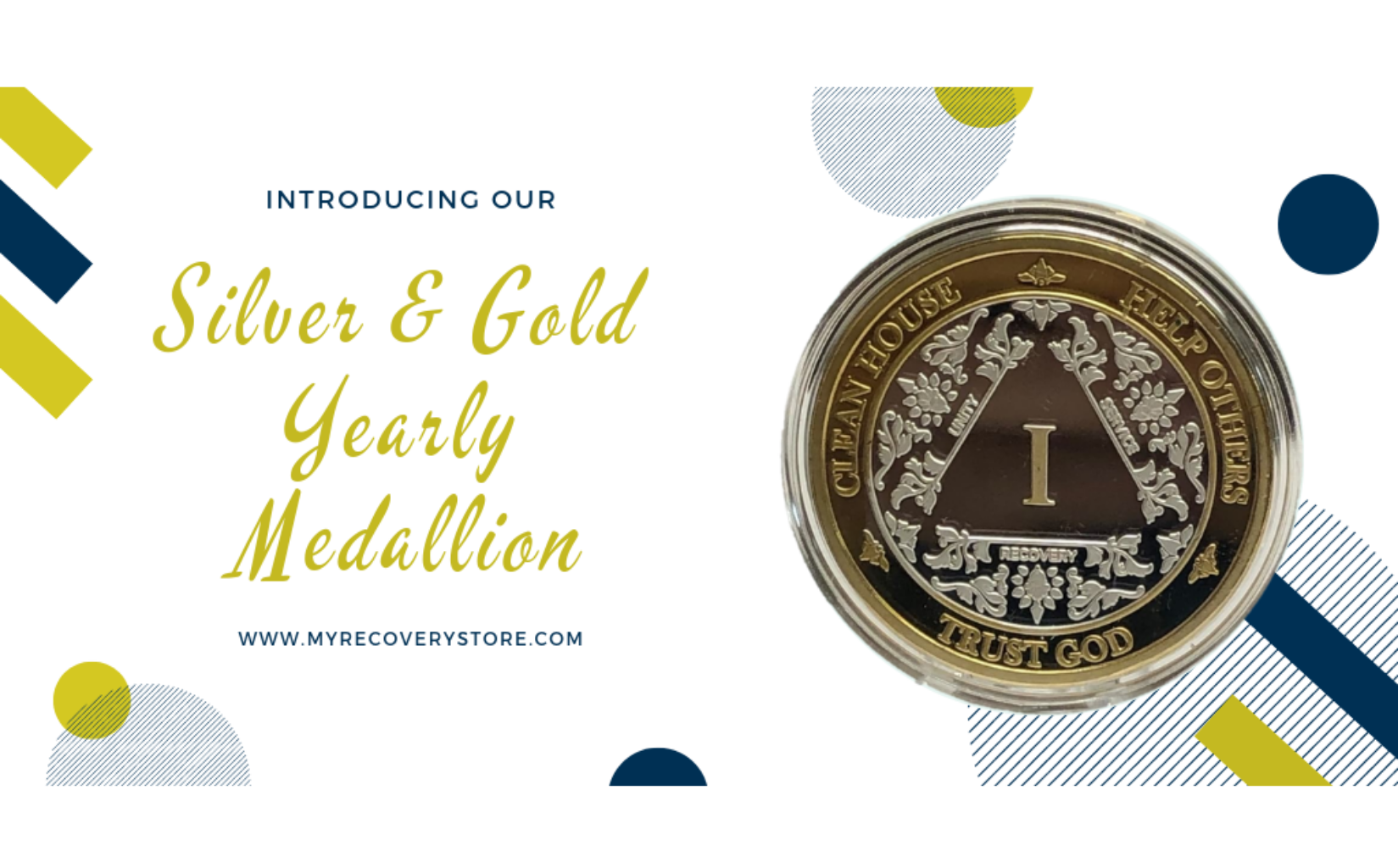 Introducing the Silver & Gold Yearly Medallion
My Recovery Store is proud to introduce our latest AA coin: the Silver & Gold Yearly Medallion. This is the latest coin in our "heavy metal" collection. We stand by our commitment to create AA coins and medallions with beautiful design elements and high-quality materials.
All That Glitters Is Gold...
This coin features 24k gold plating and exquisite floral details, for an upscale and elegant look and feel. Displayed front and center is the yearly milestone, in raised Roman numerals, within the AA triangle logo. Also visible around the triangle are the words "unity, service, & recovery." The front edge reads "Trust God, Clean House, & Help Others." The back displays the first line from "How it Works," and the Third Step Prayer:
God, I offer myself to Thee - To build with me and to do with me as Thou wilt. Relieve me of the bondage of self, that I may better do Thy will. Take away my difficulties, that victory over them may bear witness to those I would help of Thy Power, Thy Love, and Thy Way of life. May I do Thy will always!
Unique & Bold
This coin is larger and bolder than anything you'll see at meetings or clubs. Features include:
40 mm in size
Coin Capsule for protection & display
24k gold plating
Third Step Prayer
First Line of "How it Works
Roman Numerals
A Perfect Gift
This Silver & Gold Yearly AA medallion makes a perfect gift for yourself or a loved one. Get yours today, or browse our collection of coins, recovery items and gifts.
Do you own, operate or manage an Alano Club, Intergroup Office or Retail Store?  Ask us about our wholesale pricing.