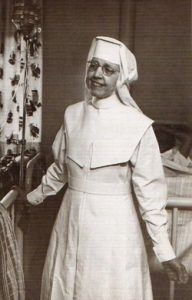 AA Chip History in 12 Step Recovery Programs Nationwide
It may come as a surprise to many, but the easily recognized symbol of sobriety, the AA chip (or AA token), is not an official part of the AA program. However, use of the AA chip stretches back to the late 1930's and early 1940's. Let's take a look at this interesting AA chip history and the origin of the circle and triangle symbols. Together, these items have become synonymous with the Alcoholics Anonymous program and milestones of sobriety.
The Legacy of Sister Ignatia
The origin of the medallions can be traced to Sister Mary Ignatia Gavin, who worked closely with Dr. Bob (a co-founder of AA). She worked with him to admit and treat alcoholics at St. Thomas Hospital in Akron, OH. She gave the Sacred Heart of Jesus medallions to those who were leaving St. Thomas hospital as a symbol of their commitment to sobriety and to God. She told them if they wanted to drink, they must first return the medallion to her. She also gave St. Christopher's medals to some of the patients.
The first mention of chips or tokens in the program was in 1942, when Doherty S., who started a program in Indianapolis, mentioned giving out chips and tokens in a letter to Bill Wilson, the other co-founder of AA. The chip today comes in many forms, but the most familiar is the bronze medallion that was first minted by Wendells, Inc from Ramsey, MN in 1973. The popularity of sobriety coins has continued to grow and has expanded to other programs, like NA and HA. However, they also offer their own versions, like the NA keychain.
The Meaning of the Triangle and Circle
The triangle represents the three legacies of recovery, unity, and service. The equilateral triangle represents the equality of each side, but also because it the symbol represents strength. A circle encloses the triangle to represent to the whole world of AA. The logo was officially phased out in 1994, but it continues to be associated with AA and other recovery programs worldwide.
Shop Our Collection
My Recovery Store has a wide selection of monthly and yearly AA chips to choose from, including traditional bronze chips and our own privately minted chip, as well as other unique designs. If you are looking for personal engraving or something specific, drop us a line!