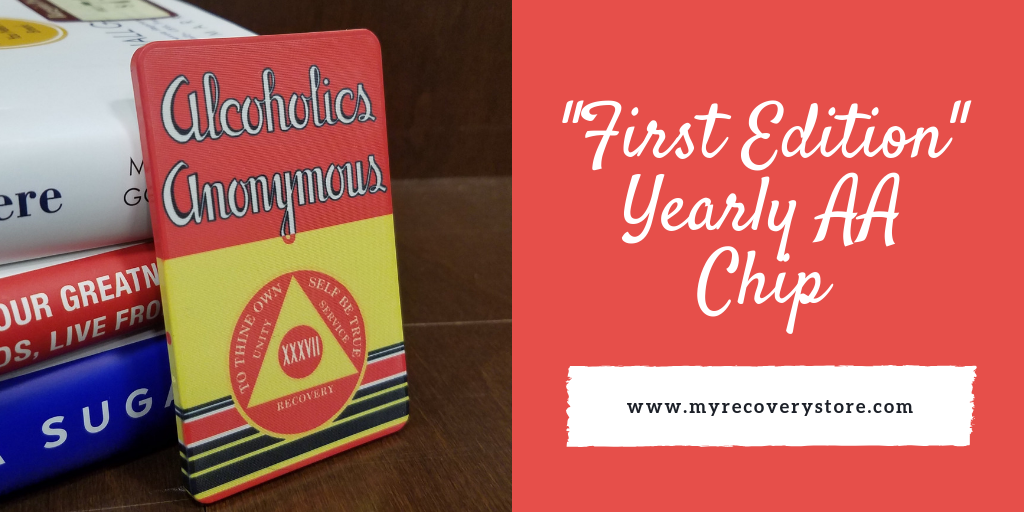 Introducing Our "First Edition" Yearly AA Chip
You could scour the internet, but you won't find any yearly AA chip like the "First Edition" Yearly from My Recovery Store. This chip pays homage for the very first edition of the AA Big Book and makes a wonderful gift. The First Edition Yearly is part of our privately minted collection and truly one-of-a-kind.
Attention to Detail
At My Recovery Store, we strive to bring you the best in AA chips and recovery items. For this reason, we created this chip with meticulous attention to detail; because it matters. The colors, fonts, and binding are replicas of the first edition of the AA Big Book, down to the contrasting color of the "y" in anonymous. Our chip even has the stripes and dot on the side, just like the book's binding. What better way to honor the beginning of a program that has changed countless lives, than by commemorating a sobriety milestone with the first Big Book.
First Edition Yearly AA Chip features:
The First Edition Yearly is a unique chip with many unique features. Some of those features include:
Durable ceramic "chip style" construction
Credit card sizing, 1.75″ x 3″
1st Paragraph of How It Works on the back
Precisely modeled after the First Edition Big Book
Fits nicely in the palm of your hand (or wallet)
Presents beautifully on a stand
Get Yours Today
Our First Edition Yearly AA chip is a special option for a major sobriety milestone. Get yours today, or shop our store for other unique AA chips and recovery items. While you are browsing, we would love to hear feedback from you, so drop us a line! We will do our best to ensure a satisfying customer experience.  
Do you own, operate or manage an Alano Club, Intergroup Office or Retail Store?  Ask us about our wholesale pricing.